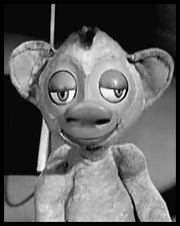 Zoonie the Lazoon is a character from the series Fireball XL5. He is the pet of Dr. Venus.

He was voiced by David Graham.
Abilities
Edit
Like many Lazoons, Zoonie has empathetic abilities, such as sensing electromagnetic disturbance (See Last Of The Zanadus), and sensing the emotions of others (See The Sun Temple). In addition, Zoonie is also a mimic, able to imitate human speech as well as other creature noises (See Space Monster). Although he seems lazy and even idiotic at times, his intelligence has saved lives on more than one occasion. (See Drama At Space City).
Appearances
Edit
Some sources spell his name 'Zoony', such as The Complete Gerry Anderson Authorised Episode Guide.
Ad blocker interference detected!
Wikia is a free-to-use site that makes money from advertising. We have a modified experience for viewers using ad blockers

Wikia is not accessible if you've made further modifications. Remove the custom ad blocker rule(s) and the page will load as expected.