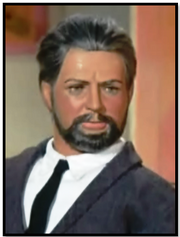 Neilsonis the Vice-President of the New York Based American Desalination Company, who were about to buy a British made desalination plant, (in The Secret Service episode A Question Of Miracles), Engineer Hartley thought the company should cancel the order, after the British plant in North Africa exploded after only 250 hours in service.
Neilson decided to wait to see how the other British experiential Plants worked first, at Port Trennick and Burgossa before canceling.
Ad blocker interference detected!
Wikia is a free-to-use site that makes money from advertising. We have a modified experience for viewers using ad blockers

Wikia is not accessible if you've made further modifications. Remove the custom ad blocker rule(s) and the page will load as expected.