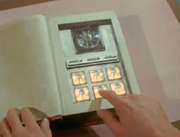 The Minimizer was a special device in the series The Secret Service, this device had the ability to shrink any person to about 1/3 normal size, the same size of the puppets used in the series. It was hidden inside a book, kept on the bookcase inside Father Stanley Unwin house.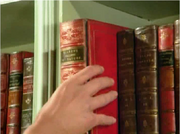 The Minimizer In Action
Edit
After retrieving the Minimizer from the bookshelf, Father Unwin shrinks Matthew Harding down to 1/3 his normal size and then he can transport him inside a specially adapted briefcase.
Other Uses
Edit
On a few occasions, the Minimizer was used to shrink other people or things.
In A Case For The Bishop, Father Unwin shrunk the Dreisenberg ambassador in order to intimidate him into handing over the stolen computer prototype.
In To Catch A Spy, Father Unwin shrunk Sir Humphrey Burton after being threatened with a gun.
In the final episode More Haste Less Speed, both Father Unwin and his car Gabriel appeared in a Minimized state.