Tex Tucker

Description

Gender
Male Cowboy
Hair
Black
Eyes
Blue

Details

Series
Four Feather Falls
Role
Sheriff of Four Feather Falls
Companions
Rocky (Horse)
Dusty (dog)
Voice Actor
Nicholas Parsons
Singing Voice Actor
Michael Holliday
Tex Tucker was the main character is the series Four Feather Falls.
Chronology
Edit
Travelling across the desert lands with his two friends Rocky the Horse and Dusky the Dog, he came across a small Indian boy who had became lost.
Magically an Indian Chief appeared. He thanked Tex for finding his son and in reward he gave Tex food and water. He also gave him four magic feathers. The first one gave his horse the ability to speak. The second one gave his dog the ability to speak as well. The other two gave him the power to fire his guns without even touching them.
With these feathers he is able to stop villainous people such Pedro from terrorizing the town of Four Feather Falls.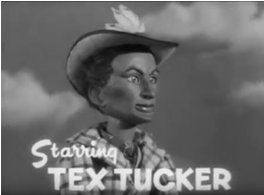 Ad blocker interference detected!
Wikia is a free-to-use site that makes money from advertising. We have a modified experience for viewers using ad blockers

Wikia is not accessible if you've made further modifications. Remove the custom ad blocker rule(s) and the page will load as expected.