First screened on ITV in October 1983 Terrahawks ran to 39 episodes. It was shown in the UK in 3 x 13 episode segments in 1983, 1984 and 1986. Produced by Gerry Anderson and Christopher Burr the Terrahawks were commanded by Dr. Tiger Ninestein, who was one of nine clones of Professor Gerhard Stein. Also in the team were Captain Mary Falconer, Captain Kate Kestrel, Lieutenant Hiro and Lieutenant Hawkeye.
Also seen was Sergeant Major Zero who led a crack team of spherical robots known as Zeroids. Assisting Hiro in space was Space Sergeant 101. Other Zeroids in evidence were 18 (Dix-Huit), a stuttering 21 and 55 (Kate Kestrel's assistant who always spoke in rhyme.)
The Terrahawks were defending Earth from an evil witch-like android named Zelda who occupied Mars. Her family included Cy-Star (Zelda's sister) Yung-Star (Zelda's incompetent son) and It-Star (Cy-Star's offspring.) There were also other bad guys present - the evil hissing Cubes, Sram (with a thunder roar), MOID (Master Of Infinite Disguise) and Yuri the Space Bear.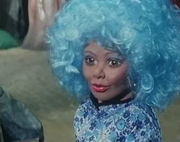 Kate Kestrel
was an accomplished pop singer and she was often seen recording songs at
Anderburr Records
in the company of her A&R man
Stew Dapples
and Anderburr Records producer - the unseen
Chic King
.
Hudson
(a 1985 Rolls Royce) was often seen driving
Kate
to and from Anderburr Records.
Badwater County's Sheriff Cy Bull also featured in a few episodes along with Deputy Kilroy.
Regular Cast
Edit
Dr. Tiger Ninestein - Jeremy Hitchen
Captain Mary Falconer - Denise Bryer
Sergeant Major Zero - Windsor Davies
Captain Kate Kestrel - Anne Ridler (speaking) and Moya Griffiths (singing)
Lieutenant Hiro - Jeremy Hitchen
Lieutenant Hawkeye - Jeremy Hitchen
Space Sergeant 101 - Ben Stevens
Hudson - Ben Stevens
Zelda - Denise Bryer
Yung-Star - Ben Stevens
Cy-Star - Anne Ridler
Dix-Huit - Ben Stevens
Zeroid 21 - Ben Stevens
Colonel Johnson - Jeremy Hitchen
Stewart 'Stew' Dapples - Ben Stevens
Chic King - Jeremy Hitchen
Zeroid 55 - Ben Stevens
Sram - Ben Stevens
Moid - Ben Stevens
Yuri the Space Bear
Sheriff Cy Bull - Jeremy Hitchen
Deputy Kilroy - Ben Stevens
It-Star - Jeremy Hitchen and Denise Bryer
Dr. Kiljoy - Windsor Davies
Zeroid 13 - Ben Stevens
Lord Tempo - Ben Stevens
Sue Ellen - Anne Ridler
(Production Order)
Season One:
Season Two:
Season Three:
(Broadcast Order)
Season One:
Season Two:
Season Three: