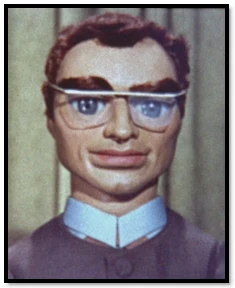 The Unnamed TV Reporter is a character who appears in the Thunderbirds episodes Sun Probe, The Mighty Atom, and Operation Crash-Dive.
In Sun Probe, he briefly appeared on television to introduce Professor Heinz Bodman who was going to give a talk on the Sun Probe project.
In Operation Crash-Dive, he appeared on television to report that a Fireflash airliner had crashed into the ocean, and again later, to report the rescue of the second crashed plane's crew.
In The Mighty Atom he made a cameo at the press conference
The TV reporter was voiced by Matt Zimmerman.
He wore the same outfit every single time
His shirt collar appears to have been made out of a strip of cardboard
His jacket lacks any sort of collar whatsoever