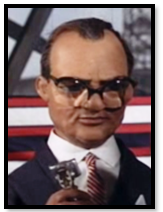 The TV Reporter is a character from the Thunderbirds episode Danger At Ocean Deep. He was seen reporting on the launch of Ocean Pioneer II for television news.
He was voiced by Ray Barrett.
The same puppet also appears in The Duchess Assignment. There, it plays a passenger sitting in the departure lounge of London International Airport, coincidentally dressed in the same outfit.