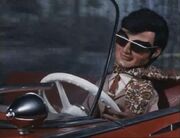 The Unnamed Speed Merchant is a character from the Thunderbirds episode The Impostors. He got in the way of Jeremiah while he was trying to get to Lady Penelope.
He was voiced by Matt Zimmerman.
This puppet also played a waiter in The Perils Of Penelope and an engineer in End Of The Road. It made a cameo as a barman at Parola Sands Raceway in Move And You're Dead, and another as a cocktail waiter aboard Fireflash in The Man From MI.5.
Ad blocker interference detected!
Wikia is a free-to-use site that makes money from advertising. We have a modified experience for viewers using ad blockers

Wikia is not accessible if you've made further modifications. Remove the custom ad blocker rule(s) and the page will load as expected.