Sir Arthur is a character from the episode Danger At Ocean Deep. He is the president of Allpets, the company that produces dog food containing the OD60 sea fungus.
He was voiced by Ray Barrett.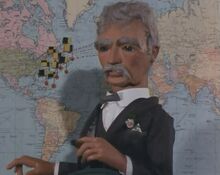 Sir Arthur makes a cameo in The Cham-Cham, as a guest at the Paradise Peaks Hotel.
Ad blocker interference detected!
Wikia is a free-to-use site that makes money from advertising. We have a modified experience for viewers using ad blockers

Wikia is not accessible if you've made further modifications. Remove the custom ad blocker rule(s) and the page will load as expected.