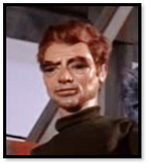 The Scottish Onlooker is a character from the Thunderbirds episode Danger At Ocean Deep.
Lady Penelope is invited by Lord Worden to launch Ocean Pioneer II from the Clydeside dockyard. Unbeknown to her, Parker has switched the quality Champagne for a cheap fizzy drink, and is sitting in FAB 1 with a fellow chauffeur, Stevens, getting drunk.
The Launch was watched by two Scottish onlookers high up in the scaffolding (Probably workers from the Shipyard), one of whom drops his hat straight on top of the microphone.
The onlooker was voiced by John Tate.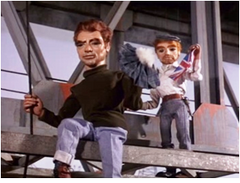 The Onlooker's puppet makes a cameo appearance in the next-produced episode, The Duchess Assignment. He can be seen sitting at the bar in the lobby of the Grand Hotel, still dressed in the same outfit.