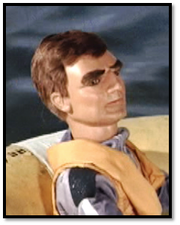 The Unnamed Saboteur is a character from the Thunderbirds episode Operation Crash Dive. He hid in Fireflash 3's wing bay and managed to destroy the plane.
Police authorities in London, after investigating the Fireflash sabotage, found that the international gang, Benton Aircraft Espionage were responsible.
The saboteur was voiced by Ray Barrett.
The saboteur's inflatable dinghy was previously seen in the "Stingray" episode The Ghost of the Sea; it later reappeared in the "Joe 90" episode Big Fish.