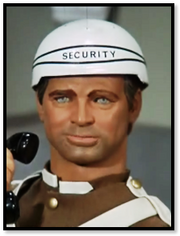 The Port Trennick Guard was seen at the gates of Port Trennick Desalination plant.
In the The Secret Service episode A Question Of Miracles he lets Father Stanley Unwin pass through the gates because a Priest was wanted in the control room, as the Doctor thought Agent Blake was dying.
He was voiced by David Healy.
Ad blocker interference detected!
Wikia is a free-to-use site that makes money from advertising. We have a modified experience for viewers using ad blockers

Wikia is not accessible if you've made further modifications. Remove the custom ad blocker rule(s) and the page will load as expected.