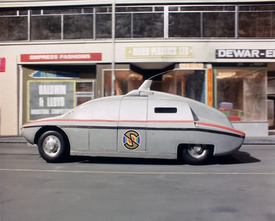 The Maximum Security Vehicle, also known as the MSV, is an armoured car from the Captain Scarlet And The Mysterons episode The Mysterons.
The car was used in a New York motorcade, to safely transport World President Younger from an unspecified location to the local Maximum Security Building, after the Mysterons threatened to assassinate him.[1]
The MSV is capable of being hermetically sealed in the event of an attack.
Technical data
Edit
Cost: £213,000.
Engines: front and rear 8-cylinder transverse rotary diesel engines.
Height (inc. topside fin): 8½ feet.
Length: 24 feet.
Personal capacity: four (two in control cabin, two in passenger cabin).
Top speed: initially up to 200 m.p.h., design modifications in March 2069 saw increase to 250 m.p.h.
Weight: 8 tons.
Width: 9 feet.[2]
References
Edit
↑ Events of The Mysterons
Ad blocker interference detected!
Wikia is a free-to-use site that makes money from advertising. We have a modified experience for viewers using ad blockers

Wikia is not accessible if you've made further modifications. Remove the custom ad blocker rule(s) and the page will load as expected.