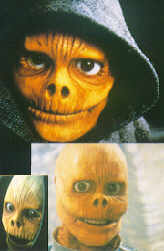 MOID is a chracter from the television series Terrahawks.
MOID (standing for "Master Of Infinite Disguise") is an alien from Terrahawks who works for Zelda. As his name implies MOID is capable of adopting the likeness of anyone he chooses. In one episode he even gains the power of invisibility. While he aids Zelda in her bid to wipe out humanity, he is incapable of taking a life.
Appearances
Edit
Played By
Edit
Ad blocker interference detected!
Wikia is a free-to-use site that makes money from advertising. We have a modified experience for viewers using ad blockers

Wikia is not accessible if you've made further modifications. Remove the custom ad blocker rule(s) and the page will load as expected.