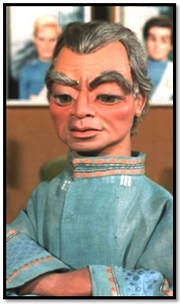 Kyrano is a character from the television series Thunderbirds.
The son of a wealthy plantation owner, Kyrano turned his back on material gain after his rightful inheritance was usurped by his evil half-brother, the Hood. Becoming an expert botanist, Kyrano spent a number of years at Kew Gardens advertising on Asian Orchids before being invited to Kenneth Space Centre to help in a project to produce synthetic food from plants. It was here that Kyrano first met Jeff Tracy and the two became firm friends. Later, Kyrano moved to Paris and became head chef at the Paris Hilton, but happily abandoned this prestigious position when he was contacted by Jeff Tracy to help him in the running of the Tracy Island domestic chores. This also helped Kyrano to raise and oversee the education and development of his daughter Tin-Tin, who also resides at Tracy Island. A vital part of the smooth running secret island base, Kyrano's only failing is his susceptibility to the evil influence of his half brother, the Hood, and is often used as an unwitting pawn in the Hood's attempts to learn the secrets of International Rescue and the Thunderbird machines.
Ad blocker interference detected!
Wikia is a free-to-use site that makes money from advertising. We have a modified experience for viewers using ad blockers

Wikia is not accessible if you've made further modifications. Remove the custom ad blocker rule(s) and the page will load as expected.