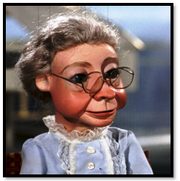 GRANDMA TRACY
Jeff Tracy's mother who lives on Tracy Island with Jeff and his sons. Grandma helped raise the boys after the tragic death of Jeff's wife. She enjoys looking after her son and her grandsons and spoiling them with her cooking. Brave and loyal to her family she is also clever. In Vault of Death she had an idea that Virgil and Alan can travel in the old subway system to get to the vault she remembered when she was a little girl her grandmother told her about trains underground and that London, Paris and New York use before the monorail system was introduced.
Ad blocker interference detected!
Wikia is a free-to-use site that makes money from advertising. We have a modified experience for viewers using ad blockers

Wikia is not accessible if you've made further modifications. Remove the custom ad blocker rule(s) and the page will load as expected.