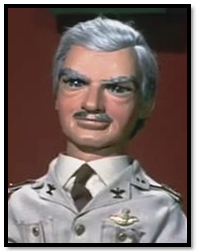 General Lambert is a general in the US Army who was seen in the Thunderbirds episode The Impostors.
He was voiced by Ray Barrett.
The Impostors
Edit
He was the man in charge of the worldwide search for the International Rescue Headquarters when he discovered that they had stolen plans for an AL-4, a fighter jet that cost the country twenty five thousand million dollars (25 billion, $25,000,000,000).
When Hale, one of the people up in one of their observation satellites in space used for the search of the International Rescue Headquarters tells Lambert that it's non-operational, the General gets impatient and tells him he wants it operational in the shortest possible time.
Meanwhile, when Jeff sends up Thunderbird 3 into space, Hale picks it up and then asks Lambert if he should start tracking where it launched from, the General says no because the White House called off the search because the two impostors Jenkins and Carela have been found.
The same puppet also played the part of General Speyer in The Mighty Atom and of Colonel Jameson in Cry Wolf. In Atlantic Inferno, it played the Captain of WNS Atlantic. He also briefly appears as a gambler in the closing scene of The Duchess Assignment.