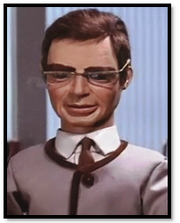 Eddie Kerr is a Thunderbirds character first seen in the episode City Of Fire. Eddie works as a World TV reporter. He is seen at the start of the episode reporting from a Helijet on the newly completed Thompson Tower.
Eddie makes an appearance in two more episodes: The Mighty Atom and The Impostors.
In The Impostors, his name is finally given as Eddie Kerr.
He was voiced by Matt Zimmerman.
The puppet used for Eddie Kerr also appeared as Morrison in the episode Security Hazard, Executive Moore in Vault Of Death, Hitchins in The Cham-Cham, both as one of the Casino Croupiers and a passenger aboard Fireflash in The Duchess Assignment, and Simms in Path Of Destruction. In Atlantic Inferno, it briefly appears on television as a TV reporter, and in The Man From MI.5, it puts in a cameo as a passenger on board Fireflash. It also plays a Satellite HQ operative in the episode Cry Wolf, and a patron at the Atalante Restaurant, Paris in Alias Mr. Hackenbacker.
It makes two cameo appearances in the movie Thunderbirds Are Go: first attending the SEC meeting, and again at the press conference.