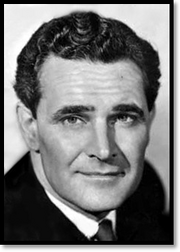 Donald Gray (born Elred Owermann Tidbury, 3 March 1914 - 7 April 1978) was a South African actor, perhaps best known for his leading role in Saber Of London as the one-armed detective Mark Saber. Gray first came to light in a 1933 worldwide Paramount Pictures venture to find new talent, winning the South African arm of the competition. Gray went on to win the entire competition.
Gray lost his left arm by a German tank shell in World War II, which led him being cast as Mark Sabre in the show of the same name, purely becuase the producers liked the originality of a one-armed detective.
Gray voiced Colonel White, Captain Black and the Mysterons in the British television series Captain Scarlet And The Mysterons, and no guest roles.
Grey died in South Africa in 1878, due to a coronary failure.
Ad blocker interference detected!
Wikia is a free-to-use site that makes money from advertising. We have a modified experience for viewers using ad blockers

Wikia is not accessible if you've made further modifications. Remove the custom ad blocker rule(s) and the page will load as expected.