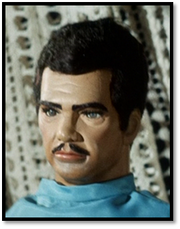 Director-General Xian Yoh was a character from the Captain Scarlet And The Mysterons episode Winged Assassin. He was the Director-General of the United Asian Empire. A Mysteron threat was made against his life, and was taken into protection by Spectrum. An assassin was stopped by Captain Grey, but the Mysterons finally succeeded when a retrometabolized DT-19 airliner crashed into his plane, killing him.
Xian Yoh was voiced by Jeremy Wilkin.
Unsurprisingly, Xian Yoh's puppet was the same one used for his doppelgänger in the fake Spectrum motorcade. They even shared a voice actor, Jeremy Wilkin.
Ad blocker interference detected!
Wikia is a free-to-use site that makes money from advertising. We have a modified experience for viewers using ad blockers

Wikia is not accessible if you've made further modifications. Remove the custom ad blocker rule(s) and the page will load as expected.