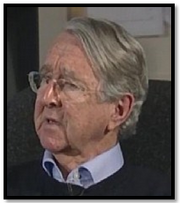 Desmond Saunders (1926 - 2018) was a British television director and film editor.
He worked as a director on many of Gerry Anderson's series, and was also production controller for Joe 90 and co-wrote one of the episodes, Lone-Handed 90. He briefly worked as a production supervisor for The Secret Service (1969-1970).
Elsewhere in television, Saunders had both production and post-production roles for The Protectors (1972–73).
Work for Gerry Anderson
Edit
Post-production executive
Assistant to producer
Associate producer
Post-production supervisor