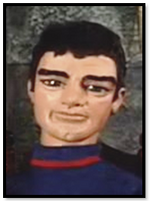 Dempsey was a member of The Erdman Gang seen in 30 Minutes After Noon.
He was voiced by Peter Dyneley.
This is one of the most often used Thunderbirds puppets, with more than its fair share of appearances. It also played:
The appearances listed above are all from Season 1. A slightly remodeled version of the same puppet also appeared in several Season 2 episodes.
Ad blocker interference detected!
Wikia is a free-to-use site that makes money from advertising. We have a modified experience for viewers using ad blockers

Wikia is not accessible if you've made further modifications. Remove the custom ad blocker rule(s) and the page will load as expected.