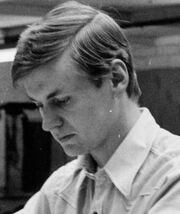 David Palmer worked as a miniature special effects workshop technician from October 1966, serving the three special effects stages at the studios in Stirling Road, Slough.
He worked on Captain Scarlet, Joe 90, Secret Service and ended with UFO, when the special effects unit finally closed at Slough.
He went on to work with Mike Trim (former special effects designer at Slough) at Profile Publications in Windsor, before both became freelance illustrators.
Ad blocker interference detected!
Wikia is a free-to-use site that makes money from advertising. We have a modified experience for viewers using ad blockers

Wikia is not accessible if you've made further modifications. Remove the custom ad blocker rule(s) and the page will load as expected.