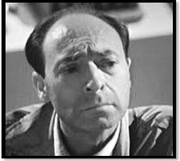 Cyril Shaps (13 October 1923 - 1 January 2003) supplied the voice of Professor Popkiss in the second series of Supercar, broadcast in 1962 and portrayed a doctor in The Protectors episode A Matter Of Life And Death.
Born in Highbury, London, he was a child broadcaster, providing voices for radio commercials from the age of 12.
Film appearances included: Lawrence of Arabia (1962), James Bond film The Spy Who Loved Me (1977), and the Doctor Who serials in the 1990s.
Other Supercar Characters Voiced
Edit
Ad blocker interference detected!
Wikia is a free-to-use site that makes money from advertising. We have a modified experience for viewers using ad blockers

Wikia is not accessible if you've made further modifications. Remove the custom ad blocker rule(s) and the page will load as expected.