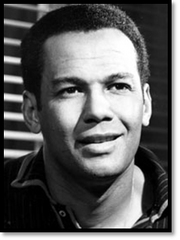 Cy Grant (8 November 1919 - 13 February 2010) was a Guyanese actor, perhaps best known for his calypso tunes featured on the British current-affairs programme Tonight.
In the Captain Scarlet And The Mysterons television series, he voiced Lieutenant Green, the African technology expert and Colonel White's aide.
External Links
Edit
Ad blocker interference detected!
Wikia is a free-to-use site that makes money from advertising. We have a modified experience for viewers using ad blockers

Wikia is not accessible if you've made further modifications. Remove the custom ad blocker rule(s) and the page will load as expected.