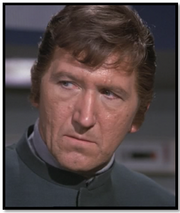 Shadostaff: Freeman (Operative 97).
Second in command of SHADO, Colonel Alexander E. Freeman has special responsibilities for the welfare and recruitment of SHADO personnel.
When Ed Straker started to build the organization he wanted as his deputy a man he could trust and at the same time respect. Alec Freeman was such a man.
Alec Freeman was played by actor George Sewell.
Ad blocker interference detected!
Wikia is a free-to-use site that makes money from advertising. We have a modified experience for viewers using ad blockers

Wikia is not accessible if you've made further modifications. Remove the custom ad blocker rule(s) and the page will load as expected.