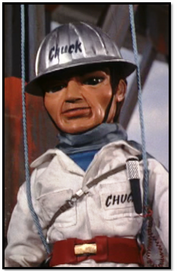 Chuck
is a character from the
Thunderbirds
episode
Day Of Disaster
. He is a bridge engineer who was seen inspecting the Allington Suspension Bridge for storm damage.
He was voiced by David Graham.
The puppet that played Chuck also appeared in the episode End Of The Road as Chuck Taylor. Although they're both called Chuck, they're probably two different characters, because Chuck Taylor was voiced by Matt Zimmerman.
Ad blocker interference detected!
Wikia is a free-to-use site that makes money from advertising. We have a modified experience for viewers using ad blockers

Wikia is not accessible if you've made further modifications. Remove the custom ad blocker rule(s) and the page will load as expected.