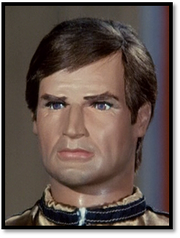 Captain Ochre (real name Richard Fraser) is a character from the Supermarionation television series Captain Scarlet And The Mysterons.
Captain Ochre was born in Detroit on 23 February, 2035. Turned down by the WAAF for his lack of qualifications, Ochre joined the World Police Corps and learned to fly in his spare time. Ochre drives the Spectrum VIP transporter.
Ad blocker interference detected!
Wikia is a free-to-use site that makes money from advertising. We have a modified experience for viewers using ad blockers

Wikia is not accessible if you've made further modifications. Remove the custom ad blocker rule(s) and the page will load as expected.