"Peace is what I want to see. A secure world. I can't do much about it if I'm dead."
— Conrad Turner, after his British Airforce Crash.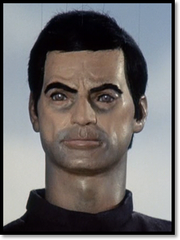 Captain Black (real name Conrad Turner) is a character from the television series Captain Scarlet And The Mysterons.
Captain Black was a senior Spectrum officer, before an unfortunate event turned him into the Mysterons' Earth Agent. He was then the mastermind behind many, if not all, of the Mysterons attacks on Earth.
The human Captain Black was voiced by Jeremy Wilkin, while the Mysteronised version of him was voiced by Donald Gray.
As A Human
Edit
Before Mars
Edit
Conrad turner led a spectacular life in and out of the spotlight, starting out in the British Air Force. A year later, Britain fell into civil war, and an accident saw him burnt beyond recognition. Surgeons worked in excess of six hours to save his life. Afterwards, Turner seemed to disappear from the face of the planet, until he resurfaced several years later as the pilot of Fireball XL3.
This new promotion put him once more in the public eye, and the newly formed Spectrum had their eyes on him. He was one of the first men chosen for the organisation's repertoire of agents, and was responsible for the construction of Cloudbase. Once the giant station was finished, he piloted the carrier from its orbital position into stationary orbit, 40,000 feet in the air. He then became Spectrum's Captain Black.
Captain Black was responsible for teaching the other Spectrum agents self-defence and flying. He was considered to be Spectrum's Number One agent.
Captain Black was sent to Mars in the Zero-X, to track down unusual signals monitored by Spectrum. He was accompanied by two Zero-X crew members, Dean and Conway. They were largely unsuccessful, until one last minute discovery changed the entire world - the discovery of the Mysterons.
The Mysterons were peaceful beings. Harmlessly training their surveillance devices on the MEV, the three man crew mistakenly believed that they were weapons. Black gave the order to fire, and the whole city was obliterated. Dean went to gather some rock samples, but a hidden device sent a beam out to the ruins, and the whole city was reconstructed. The Mysterons went on to declare a "war of nerves" against Earth, and took over Captain Black as their Earth Agent.
Captain Black, Mysteron Agent
Edit
Main article: Captain Black's Missions
Ad blocker interference detected!
Wikia is a free-to-use site that makes money from advertising. We have a modified experience for viewers using ad blockers

Wikia is not accessible if you've made further modifications. Remove the custom ad blocker rule(s) and the page will load as expected.