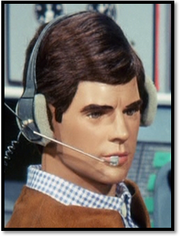 DJ Bob Lynn was a character from the Captain Scarlet And The Mysterons episode White As Snow. He was the DJ on TVR-17 before he, along with TVR-17, were forced into returning to Earth early by Captain Black. He was later reconstructed and used in an attack against Cloudbase, but was destroyed by Symphony Angel.
Bob Lynn was voiced by Gary Files.
Ad blocker interference detected!
Wikia is a free-to-use site that makes money from advertising. We have a modified experience for viewers using ad blockers

Wikia is not accessible if you've made further modifications. Remove the custom ad blocker rule(s) and the page will load as expected.