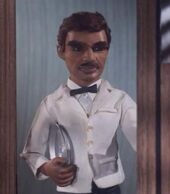 Alfred is a character from the Thunderbirds episode The Perils Of Penelope. He was an attendant on board the monotrain that took Lady Penelope Creighton-Ward to Anderbad.
He is twice referred to by name in the episode, and both times he is called Alfred. However, he is referred to as "Albert" in several reference books.
This is the same puppet that played Colonel Harris in the episode Sun Probe, only with an added moustache.